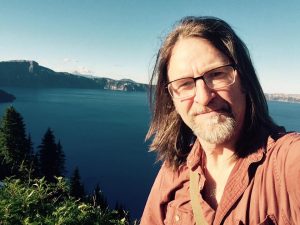 Mr. Tim Llewellyn Ihssen – Professional Doctorate student in Interfaith Studies at UWTSD
Biography: Tim Llewellyn Ihssen worked as a Lutheran youth pastor for 25 years in the United States
and Canada before earning his Master's degree in Spiritual Formation from George Fox Evangelical
Seminary. He is currently a doctoral student in the Interfaith Program at UWTSD. His research question is, "Should Lutherans reject the polemical writings of Martin Luther on Islam?"
'Quaker Zen: A Lutheran's Guide to the Best 21 Minutes of Your Day'
Abstract: The majority of the planet adheres to a religion that holds daily prayer and meditation as
central to their faith, and yet, like daily flossing, accomplishing it seems aspirational. Even if life does
not get in the way, and one commits to spending time in prayer and meditation, finding practical
guidance and how to actually do this is a bit harder to come by. Using the meditative tenets of Zen
Buddhism, the mindfulness of Quakers (Society of Friends), and the structure and biblical foundation
of Lutheranism, this presentation whimsically whittles daily meditative practice into four 5-minute
segments (with a bonus minute!) that anyone can use – from religion majors to the spiritually
curious. The best news is, you already have all the tools you need to be a successful 21st century
meditator: 21 minutes of each day and an imagination.
Here's a link to the Insight Timer.
The last slide on my presentation featured Fred Rogers, a man I tongue-in-cheekily referred to as the reincarnation of Jesus. It did not occur to this solipsistic American that not everyone is familiar with this man and his work.
Here's a trailer of the documentary on his life, Won't You Be My Neighbor?
Here's a link to Fred Rogers' testimony before Congress.
And here's a link to his speech for a Lifetime Achievement Award at the Emmys.
Click here to see my presentation at the Doctoral Research Conference in Swansea:
Thich Nhat Hanh Needs to Set Himself on Fire