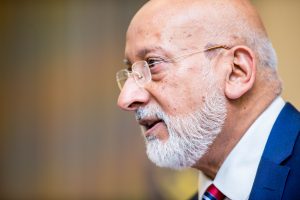 Prof. Saleem Kidwai
Muslim Council of Wales
Biography: Prof. Saleem Asghar Kidwai OBE, KFO, FRSA, Founder & Chief Executive of SNK
Associates- accountants-consultants and advisers which he started in April 1985 with 30 clients and
now with over 1300 clients with 18 staff and 1 partner. He is also the co-founder and chief executive
of EBSP Ltd, Leadership, Equality and Diversity Training Centre. Prof. Kidwai has been the Chief
Executive of Ethnic Business Support Programme, an initiative to encourage and support members
from the ethnic community to start a business and to provide them with business support. He is the
Co-founder and Chairman of Islamic Banking and Finance Centre UK. He has been working with and
among the ethnic communities for over two decades but since 2001 has been very closely involved in
the grassroots of the ethnic communities. Prof. Kidwai is the first British Pakistani in Wales to receive
an OBE, he is a recipient of the Knight of the Francis Order (KFO), the first Asian to be made an
Honorary Fellow of Cardiff University and in 2017 was made an Honorary Fellow and Professor of
Practice at the University of Wales Trinity Saint David.

'Interfaith Harmony as an Act of Worship'
Abstract: Spirituality means different things to different people but is usually related to ideas about
the soul. In Islam the soul is intimately linked with the other elements of the human being, including
the physical self. Worship is the key to spirituality and the purpose of the human being's life – as God
says in the Quran: 'And I did not create the jinn and mankind except to worship me' (51:56).
Spirituality and worship are achieved not just through prayer and rituals but also through one's
contribution to the world and behaviour towards fellow human beings. In Islam spirituality is
achieved by the human being fulfilling two categories of responsibilities ordained by God; in Arabic
they are termed:
* Huqooq ul Allah – Our responsibilities toward our creator;
* Huqooq ul Ibaadh – The responsibilities we have toward our fellow beings, including the
environment and animals etc.
Interfaith harmony forms part of Muslims' responsibilities towards their fellow human beings and is
based on the idea that God has honoured all the children of Adam, as He states in the Qur'an (17:70).
The rest of the paper will discuss the Islamic concept of worship and spirituality – Huqooq ul Allah and
Huqooq ul Ibaadh – and how these ideas encourage Muslims to work towards interfaith harmony.