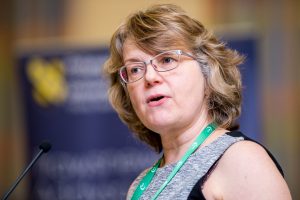 Prof. Bettina Schmidt
Professor in Study of Religions, UWTSD
Biography: Bettina E. Schmidt, DPhil (habil.), PhD, MA in Cultural Anthropology (Marburg University,
Germany), is professor in study of religions at the University of Wales Trinity Saint David and the
director of the Alister Hardy Religious Experience Research Centre located in Lampeter. Previously
she worked at Marburg University, Oxford University and Bangor University. She was also visiting
professor at the City University of New York and visiting scholar at the Pontifícia Universidade
Católica de São Paulo. She has published extensively on Caribbean and Latin American religions,
identity, cultural theories and migration. Her academic interests include anthropology of religion,
diaspora identity, religious experience, urban studies, medical anthropology and gender issues. Her
main fieldworks were conducted in Mexico, Puerto Rico, Ecuador, New York City, and in São Paulo,
Brazil. She is the author of Spirit and Trance in Brazil: An Anthropology of Religious Experiences (2016,
Bloomsbury), Caribbean Diaspora in the USA: Diversity of Caribbean Religions in New York City (2008,
Ashgate), Einführung in die Religionsethnologie (2008, Reimer Verlag Berlin), and co-editor of Spirit
Possession and Trance: New Interdisciplinary Perspectives (2010, Continuum), and of Handbook of
Contemporary Brazilian Religions (2016, Brill).

'The Experience of Seeing: Sight as a bridge between insider and outsider.'
Abstract: Possession ritual in Brazil is a breath-taking performance with colourful costumes, ecstatic
dance movements and music that entice to join. These rituals are, of course, more than a highly
aesthetic performance. They are efficacious, for the community, the medium and the possessing
agent. For the observing researcher the aesthetic side, however, is easier to engage with as it allows
the academic outsider to express admiration for a spectacle without being part of it. A performative
approach that highlights what we can see as well as hear, smell, taste and touch, is seen by many as a
way to avoid the reductionist view as it allows for the inclusion of the researcher's emotion. There is,
however, also the danger that it can lead to a nostalgic projection, even an Orientalist attitude.
This paper is based on research about spirit possession and trance in New York and Brazil. The focus
is on the body and the perception of the researcher how the body of the mediums seem to change
during the rituals. It argues that the reflection of our experience of seeing might be used as a
methodological bridge to overcome the boundary between scholars explaining experiences and
people living them.